Borrow from Another Library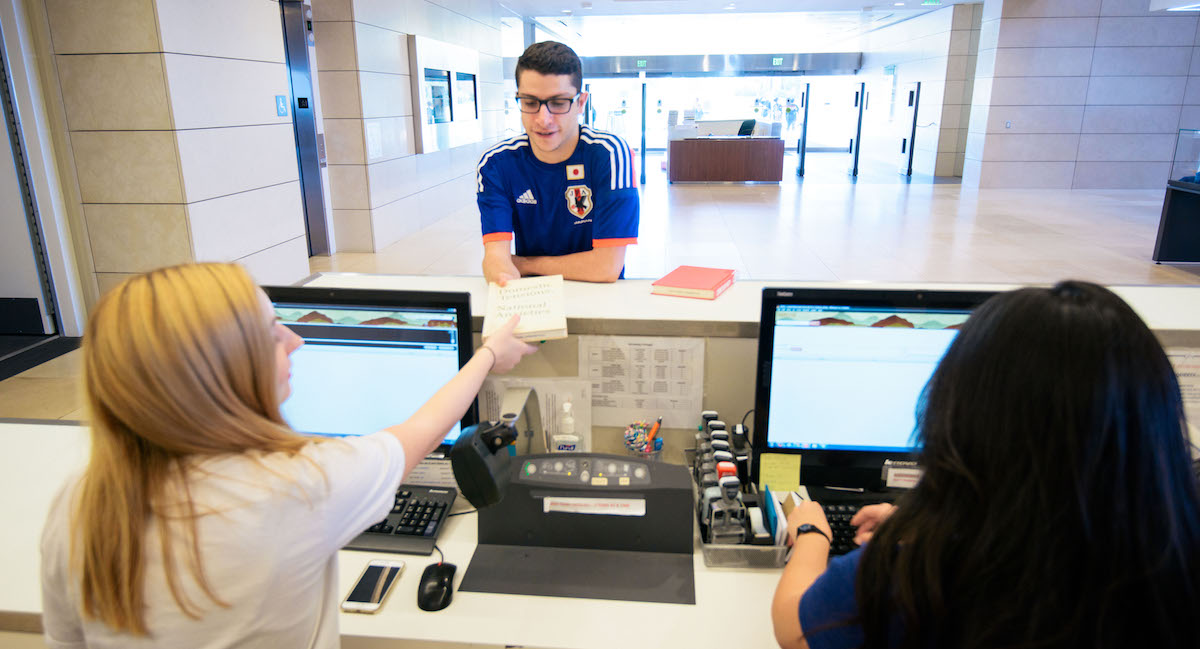 Alert: LINK+ Offline in Summer 2023
As a necessary part of the migration to our new library system this summer, we are temporarily suspending LINK+ borrowing, effective May 5, 2023. We anticipate restoring access to this service in late January.
Access to interlibrary loan via ILLiad is still available throughout this time. Additionally, we encourage you to make use of local public libraries, if these options are accessible to you:
We recognize this may present a considerable barrier for some of our students and faculty. We apologize for the inconvenience, but will work with you to find alternative resources within our own collections for urgent needs, or via the options listed above for less time-sensitive needs.
If you have questions or need assistance with locating resources, please contact us via our Get Help page.
Requesting Items From Another Library
LMU students, faculty, and staff can request to borrow items from another library if those items that are not available in the library catalog or databases.
Use ILLiad to:

request print or electronic articles that are not available in the library
request books that are not available in the library catalog
request dissertations that are not available in the library or on ProQuest Dissertations & Theses Global
Please see below for additional information about ILLiad.
Contact Document Delivery Services for Help
Hours: Monday–Friday, 8:00 a.m.–5:00 p.m.
Email: libdocs@lmu.edu
Phone: 310.338.7683
Visiting Other Libraries
LMU Graduate students who wish to borrow from a SCATLA library should fill out our online form. Once approved by LMU, the student will go to the school they want to borrow from.
Full Time LMU faculty members who want to borrow books from AJCU institutions need to request the AJCU Direct Reciprocal Library Borrower Form from Library Administration (located on library level 3).
Full Time LMU faculty who want to borrow at other SCELC libraries must take a completed Patron Registration Borrowing Application to the library from which they want to borrow. You may print out the online version of the Patron Registration Borrowing Application or an LMU circulation staff member can provide a copy at the Circulation Desk at Hannon Library. The Circulation Services Manager will sign the form, verifying that the faculty member is in good standing (no blocks), and fill in the "valid until" date (generally one year). Faculty requesting to borrow from multiple libraries will need to complete forms for each library. Borrowing privileges depend on the library from which they are borrowing.
LMU students, faculty, and staff can use ILLiad to:

Request media item not available

Need help with Illiad? See our Illiad FAQ.

Status of ILLiad requests

Copyright Restrictions

The copyright law of the United States (Title 17, U.S. Code) governs the making of photocopies or other reproductions of copyrighted material. Under certain conditions specified in the law, libraries and archives are authorized to furnish a photocopy or other reproduction. One of these specified conditions is that the photocopy or other reproduction is not to be "used for any purpose other than private study, scholarship, or research." If a user makes a request for, or later uses, a photocopy or reproduction for purposes in excess of "fair use," that user may be liable for copyright infringement. This Institution reserves the right to refuse to accept a copying order if, in its judgement, fulfillment of the order would involve violation of any applicable copyright law.

Requesting Dissertations Not Available at LMU

Request dissertations that are not available in the library or on Proquest Dissertations & Theses

If a dissertation or thesis is not available in ProQuest...

The library may own a print version.
Print versions may also be available in LINK+.

If you still cannot find the thesis...

Log in to ILLiad to request a copy through Interlibrary Loan.
Interlibrary loan articles are usually delivered by email in 3-5 weekdays.

Please note: Dissertation Abstracts International is an abstracting service only. If you find a dissertation you would like to read, please follow the steps above to find or request the entire dissertation.