Off-Campus Access @ the Library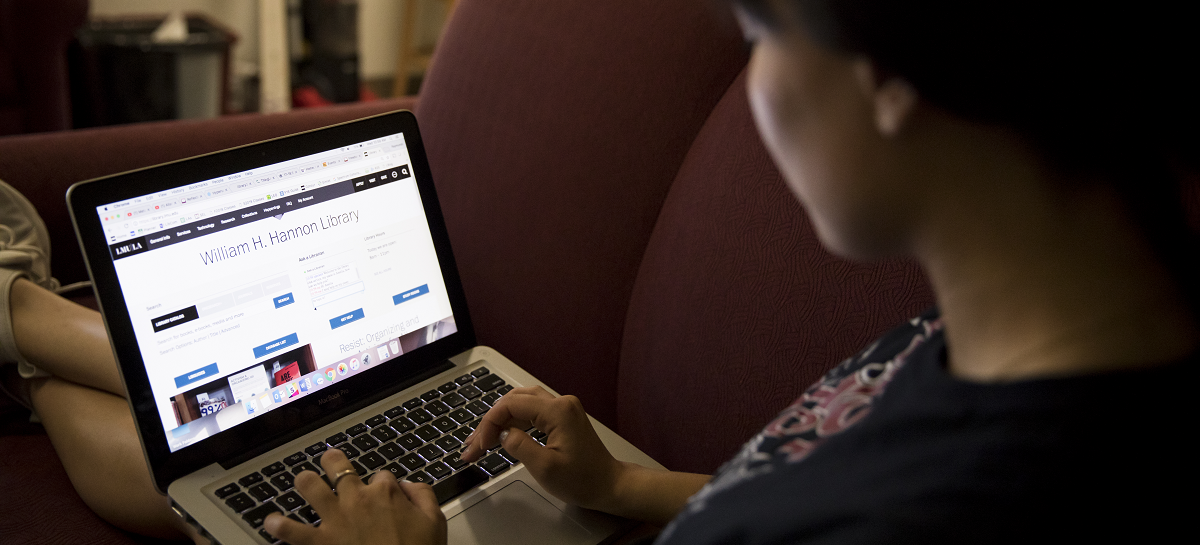 Connecting to Library Resources from Off Campus
When connecting to an electronic resource (i.e. an e-journal or an e-book), users with off-campus privileges can sign in with their MyLMU email and password.
If you are trying to request or renew a book or see your currently checked-out books, you should sign in to My Account. When logging in to their library account (My Account Login page), users will be asked to sign in with their MyLMU alias username (not full email address) and password. You can look up your username using the Account Lookup tool. If you have difficulties, please read our My Account FAQ or contact the library via the Get Help page including 24/7 virtual chat.
Questions and Troubleshooting
Who is eligible to use the library's electronic resources from off campus?
Faculty, staff, and currently enrolled students at LMU's Westchester campus are permitted to access electronic resources remotely. Owing to the license agreements we sign with the vendors of these products, off-campus access is not available to LMU alumni or Loyola Law School students.
When I go to one of the library's databases, I do not see the login screen.
To make sure you are accessing the library's version of the database, navigate to it from the library homepage. Linking to the resource from the library's home page ensures that you are passed through the library's authentication system (the proxy server). If you try to connect to our electronic resources from bookmarks or other websites, they might not work properly.
I'm entering my username and password, but it does not work.
Your MyLMU email and password are used to access the library's resources from off-campus.
If you have 10 failed login attempts in a 5-minute period, your account will be blocked for 15 minutes. Any login attempts during this time will reset your 15 minutes block.
If all else fails, reset your password. Even if it is working across all other MyLMU platforms, changing your password usually fixes any login problems.
Which web browser should I use?
Off-campus access works with all major web browsers (Internet Explorer, Firefox, Safari, and Chrome). If you are not able to connect to an e-resource, try using a different browser.
My connection seems slow.
Connecting to an authentication system from off-campus can take up to a minute. Once you authenticate the system will remember you, and your use of the electronic resources will be faster.
Can I use Google Scholar to link to LMU's resources from off campus?
Google Scholar searches the internet for journal articles and other scholarly literature. When you use Google Scholar on campus, it knows that you are affiliated with LMU and will automatically show links to LMU's e-resources. To configure your off-campus computer to show links to LMU resources, go to Google Scholar Settings, select "Library links" from the side menu, type "Loyola Marymount" in the search bar, and select "Loyola Marymount University (Full-Text @ LMU Library)" from the results. If you have any questions, please contact the library via the Get Help page.
I am getting a message that says "You are not authorized to view this page" or "The address you are trying to access is invalid."
Sometimes you may be doing everything right but the electronic resource may not be responding like usual. We want to help! Please contact us for additional help.
For more information about accessing resources off-campus, see our Library FAQ.