Faculty Pub Night @ the Library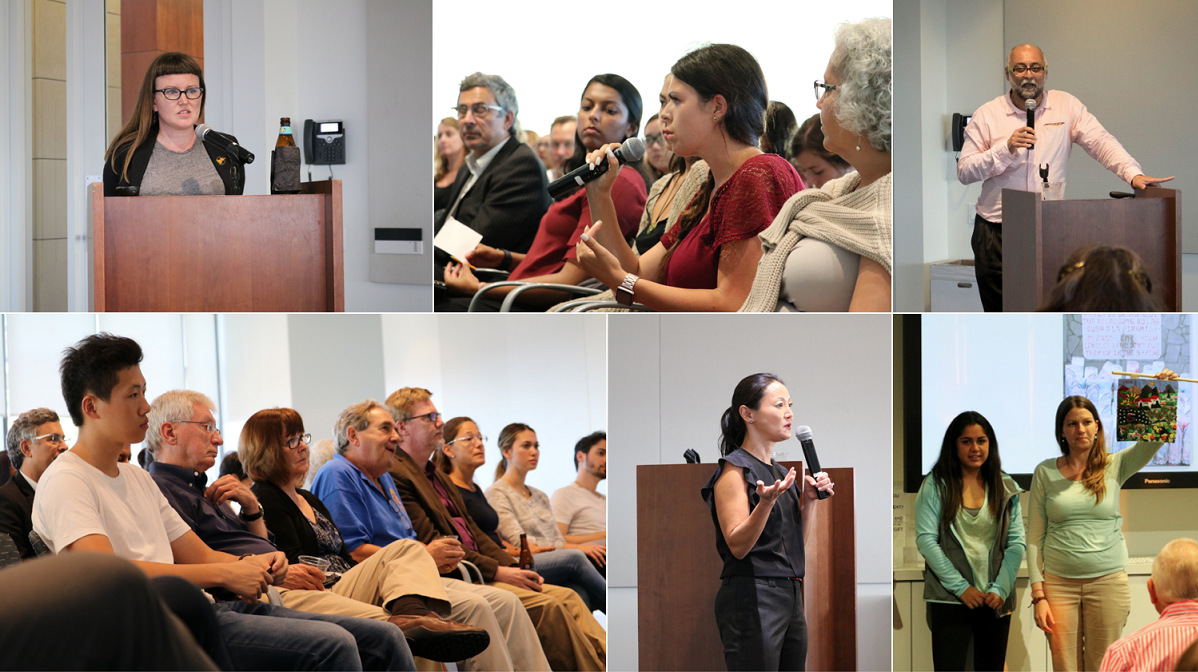 Faculty Pub Night is a library-sponsored speaker series launched in 2010. It is designed to highlight a diverse, interdisciplinary range of research publications and creative works created by faculty at Loyola Marymount University and Loyola Law School, presented to a broad audience that includes students, faculty, staff, and off-campus guests.
Speakers are selected by an internal committee of librarians and library staff and approved by the Dean of the Library. The committee responsible for developing the series strives to select an annual line-up of faculty (four each semester) with diverse and inclusive representation across schools and colleges, academic departments and programs. The call for proposals for next year's series will go out in February/March.
Faculty Pub Night is open to everyone and students are especially encouraged to attend. To learn more about this year's speakers and attending Faculty Pub Night, go to our Library Events page. Previous speakers and their presentations (when available) are archived in LMU Digital Commons.
If you have any questions about the series or the application/evaluation process, please contact the library's Outreach and Engagement Department at library.outreach@lmu.edu.
Previous Faculty Pub Night Speakers
Fall 2022 - Spring 2023
September 13, 2022: Nadia Kim (Asian and Asian American Studies)
October 11, 2022: Kristin Doidge (Public Relations)
November 15, 2022: Douglas Christie (Theological Studies)
December 6, 2022: Corinna Laughlin (Communication Studies)
January 24, 2023: Stacey Cabaj, Jason Sheppard, and Christine Breihan (Theatre)
February 21, 2023: Brian Treanor (Philosophy)
March 21, 2023: Sylvia Zamora (Sociology)
April 18, 2023: Jason Baehr (Philosophy)
Fall 2021 - Spring 2022
September 14, 2021: Jongyeon (Joy) EE (School of Education)
October 12, 2021: Louvenia Jackson (Marital and Family Therapy)
November 9, 2021: Rebecca Stephenson and Kari Huchting (School of Education)
December 7, 2021: Vanessa Diaz (Chicano Studies)
January 18, 2022: Tatiana Kuzmenko and Demian A. Willette (Biology)
February 15, 2022: Mary Kuryla (SFTV Screenwriting)
March 15, 2022: Au Vo (Information Systems and Business Analytics)
April 12, 2022: Rebecca Delfino (Loyola Law School)
Fall 2020 - Spring 2021
September 15, 2020: Anupama Kapse (Film and TV Studies)
September 22, 2020: Samuel Pillsbury (Loyola Law School)
October 13, 2020: Nina Lozano (Communication Studies)
November 10, 2020: Jason Jarvis (Communication Studies)
December 1, 2020: Jennifer Rothman (Loyola Law School)
January 19, 2021: Aidin Namin, Myla Bui, Mitchell Hamilton, Julian St. Clair (Marketing)
February 16, 2021: Kate Pickert (English)
March 16, 2021: Áine O'Healy (Modern Languages and Literatures)
Fall 2019 - Spring 2020
September 10, 2019: Stefan Bradley (African American Studies)
October 15, 2019: Ben Fitzpatrick (Mathematics)
November 12, 2019: Kris Brancolini and Marie Kennedy (Library)
December 3, 2019: Andrew Dilts (Political Science)
January 21, 2020: Arnab Banerji (Theatre Arts)
February 18, 2020: Shaun Anderson (Communication Studies)
Fall 2018 - Spring 2019
September 11, 2018: Adriana Sanford (Marketing and Business Law)
October 16, 2018: Cara Anzilotti (History)
November 13, 2018: Melody Rod-ari (Art History)
December 4, 2018: Robert Brain (LLS)
January 22, 2019: Cesare Romano (LLS)
February 19, 2018: Theresia de Vroom (English) and Michael Berg (Mathematics)
March 5, 2019: Evelyn McDonnell (Journalism and New Media)
April 9, 2019: Sarah Maclay (English)
Fall 2017 - Spring 2018
September 12, 2017: Kayoko Okada (Psychology)
October 17, 2017: Sina Kramer (Women and Gender Studies)
November 14, 2017: Gregory Ruzzin (SFTV Film Production)
December 5, 2017: Nigel Raab (History)
January 23, 2018: Brett Hoover (Theological Studies)
February 20, 2018: Carla Marcantonio (Film and TV Studies)
March 13, 2018: Amir Hussain (Theological Studies)
April 10, 2018: Dean Scheibel (Communication Studies)
Fall 2016 - Spring 2017
Fall 2015 - Spring 2016
Fall 2014 - Spring 2015
Fall 2013 - Spring 2014
Fall 2012 - Spring 2013
Fall 2011 - Spring 2012
September 7, 2011: Eric Strauss (Biology)
October 5, 2011: Carroll Kearley (Philosophy), Father Tom Rausch (Theological Studies), and Katharine Free (Theater Arts)
November 9, 2011: John T. Wholihan (Dean of the College of Business Administration)
December 7, 2011: Nadia Kim (Sociology)
February 7, 2012: Adilifu Nama (African American Studies)
February 21, 2012: Alexandra Natapoff (Loyola Law School)
April 17, 2012: Sarah Maclay (English)
Fall 2010 - Spring 2011
September 8, 2010: Michael Genovese (Political Science)
October 6, 2010: Fred Kiesner (Management and Entrepreneurship)
November 3, 2010: Glenn Gebhard (Film and Television Production)
December 8, 2010: Gail Wronsky (English), Alicia Partnoy (Spanish); and Gronk (Painter)
January 18, 2011: Dorian Llywelyn, S.J. (Theology) and Elizabeth Drummond (History)
February 8th, 2011: Stephanie Limoncelli (Sociology)
March 15th, 2011: Jackie Dewar (Mathematics) and Virginia Merriam (Biology)
April 5th, 2011: John Dorsey (Marine Biology)
Fall 2009 - Spring 2010
October 6, 2009: Christopher Key Chapple (Theology)
October 27, 2009: Chuck Rosenthal (English)
December 10, 2009: Katerina Zacharia (Classics and Archaeology)
February 11, 2010: Paul Harris (English)
February 18, 2010: Paul T. Zeleza (Dean of the College of Liberal Arts)
March 25, 2010: Wendy Binder (Biology)
April 13, 2010: Carla Bittel (History)