Computers & Software @ the Library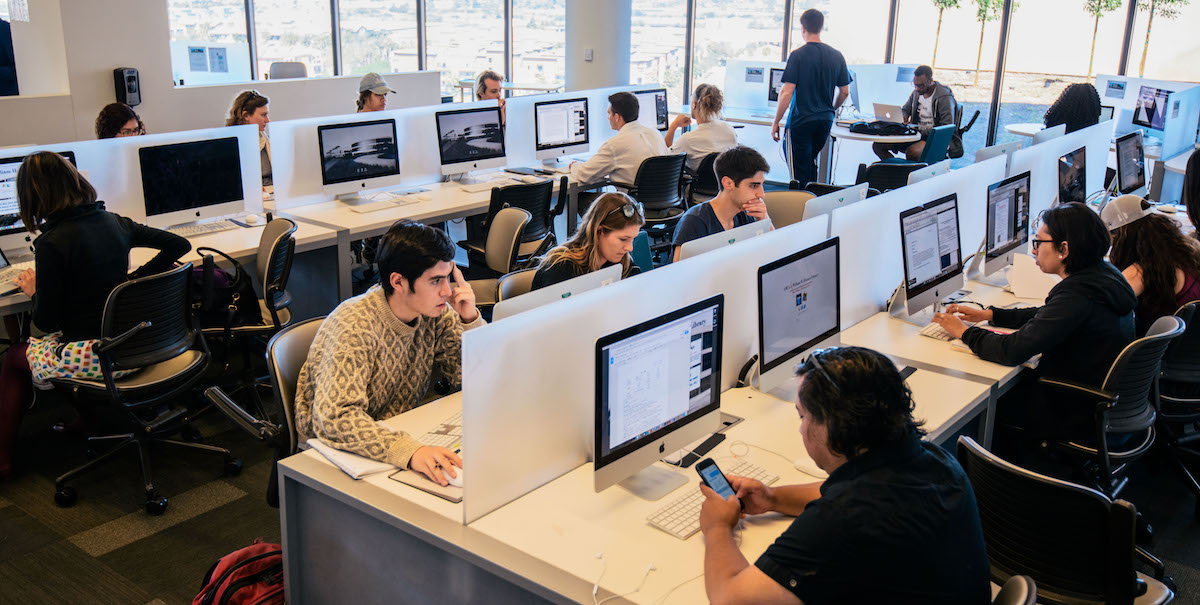 The Information Commons at the William H. Hannon Library features 86 computers (80 run both Mac OS and Windows) for use by students, faculty, and staff. Students may also borrow laptops from the Circulation Desk. Visitors with computer access privileges are welcome to use computers in the Information Commons when they are not being used by LMU community members.
Students can check the other campus labs for specific software and hours.
List of Applications
Software
Mac
Windows
Category
Adobe Acrobat
x
PDF Creator & Reader
Adobe After Effects
x
Video Editor
Adobe Animate
x
Animation
Adobe Audition
x
Audio Editor
Adobe Bridge
x
Creative Projects Repository
Adobe Character Animator
x
Animation
Adobe Dreamweaver
x
Code Editor
Adobe Illustrator
x
Graphics
Adobe InCopy
x
Collaboration
Adobe InDesign
x
Desktop Publishing
Adobe Lightroom
x
Graphics
Adobe Photoshop
x
Graphics
Adobe Prelude
x
Video Editor
Adobe Premiere Pro
x
Video Editor
Adobe XD
x
Web Design
ArcGIS
x
GIS
Auralia
Level 2, A-H
Music
BBEdit
x
Code Editor
Bibloi
x
Bible Studies Application
Box Notes
x
Productivity
Chrome
x
x
Productivity
Cinema 4D
Level 2, A-H
Graphics
Corel Painter
Level 2, A-H
Graphics
Endnote X8
x
x
Citation Editor
Fetch
Level 2, A-H
Productivity
Finale
Level 2, A-E
Music
Firefox
x
x
Productivity
Font Agent Pro
Level 2, A-H
Font Management
Fontographer
Level 2, A-H
Font Editor
Handbrake
x
x
Video Converter
iMovie
x
Video Editor
JAWS
27-29
Screen Reading
Keynote
x
Productivity
KnotPlot
Level 2, A-H
Kurzweil
27-29
Screen Reading
Mathematica (Wolfram)
x
Math
Matlab
x
x
Math
MS Access
x
Productivity
MS Excel
x
x
Productivity
MS OneNote
x
x
Productivity
MS PowerPoint
x
x
Productivity
MS Publisher
x
Desktop Publishing
MS Word
x
x
Productivity
Musition
Level 2, C&D
Music
Nik Collection
Level 2, A-H
Graphics
Numbers
x
Productivity
Pages
x
Productivity
P5
Level 2, A-H
Graphics

Pom v.2
(for v.4 access CBA
virtual desktop - see FAQ)

x
Productivity
Processing
Level 2, A-H
Visual Arts
QM
x
Productivity
Quicktime
x
x
Video Player
Sibelius
Level 2, A-H
Music
Skype
x
x
Collaboration
Smasher
Level 2, A-H
Statistics
SPSS (IBM)
x
x
Statistics
Stata
x
x
Statistics
Sublime Text
Level 2, A-H
Text Editor
Tableau Public
x
x
Productivity
Tableau Reader
x
Productivity
Team Viewer 12
x
x
Collaboration
Tex-Edit Plus
Level 2, A-H
Text Editor
VLC
x
x
Video Player
VMWARE Horizon Client
x
Virtual Desktop
Wacom Tablet
Level 2, A-H
Graphics
Zoom
x
Productivity
ZoomText
27-29
Screen Reading
Zotero
x
x
Citation Editor
Zotero Plugin (Firefox)
x
x
Citation Editor