Printing in the Library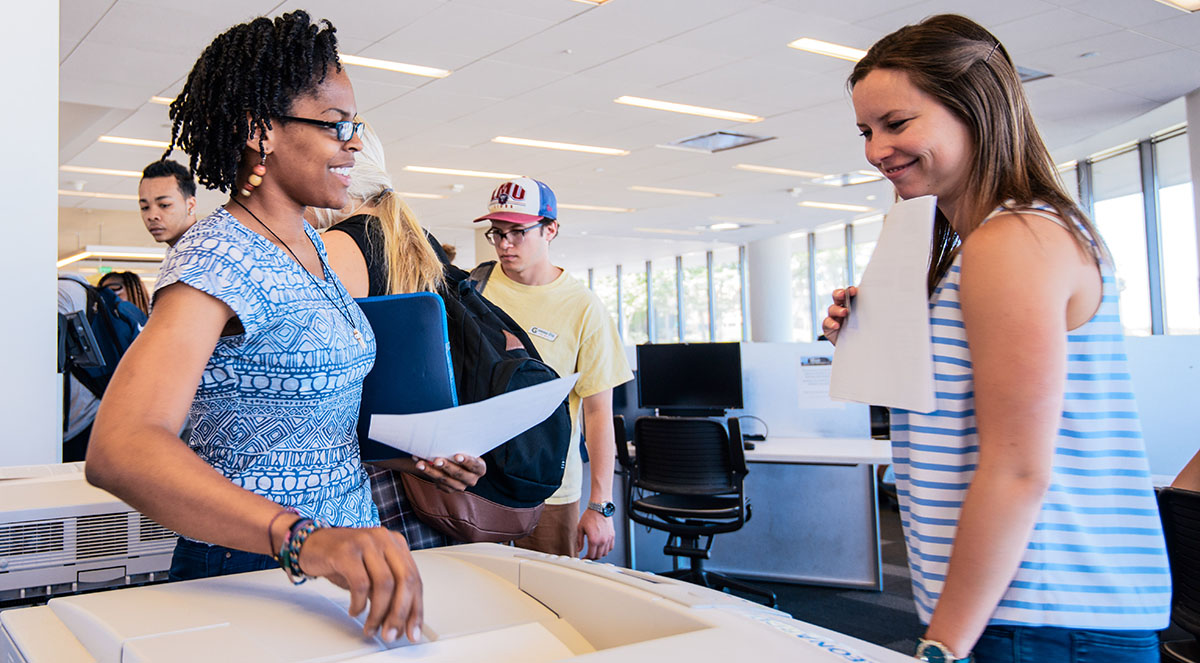 Printing in the library is available on Level 1 in the Information Commons and on Level 3 via the copy machine. Printing on the copy machines may be done from library computers. Most printing in the library requires a OneCard or VTS card. Wireless printing can be done using the PrintMe Cloud Service, which accepts OneCard and credit cards.
Cost & Payment
Black and White: 10 cents per side. Payment must be made with an LMU community printing credit or Flexi-dollars.
Color: 25 cents per side. Payment must be made with an LMU community printing credit or Flexi-dollars.
LMU faculty, students, and staff receive a $20 credit per year. You can change cash into Flexi-dollars at the VTS machine in the photocopy room on Level 1, add money online (minimum $10), or go to the OneCard Office in the Von der Ahe Welcome Center.
LMU alumni and Loyola Law School affiliates with OneCards and others with Borrower's Cards may add value to those cards to print.
Visitors can purchase a VTS card and add cash at the VTS machine on Level 1. The machine charges $1 for the card. The PrintMe service (instructions below) also takes credit and debit cards.
OneCard Office provides refunds when printing errors occur.
Questions about printing? See our Printing FAQ.
PrintMe Cloud Service
PrintMe Cloud Service enables wireless printing from any desktop or laptop computer and mobile devices using the PrintMe app.
How to Print Using PrintMe
1. Send
Send files to the PrintMe Cloud from a desktop, laptop, smartphone or tablet and receive a release code. Choose from a variety of ways to send files:
2. Locate
Find the PrintMe printer located on the first level of the library in the Information Commons.
3. Print
Print when you're ready by entering your release code at the printer.
Select "Print" option on printer touchscreen
Choose uploading method (PrintMe is PrintMe.Com, USB, Mobile, etc.)
Slide debit or credit card.
Enter release code for print job.
Choose printing options and release print job.
PrintMe Wireless Printing Instructions
For more on using PrintMe, see our library FAQ.