Equipment Checkout @ the Library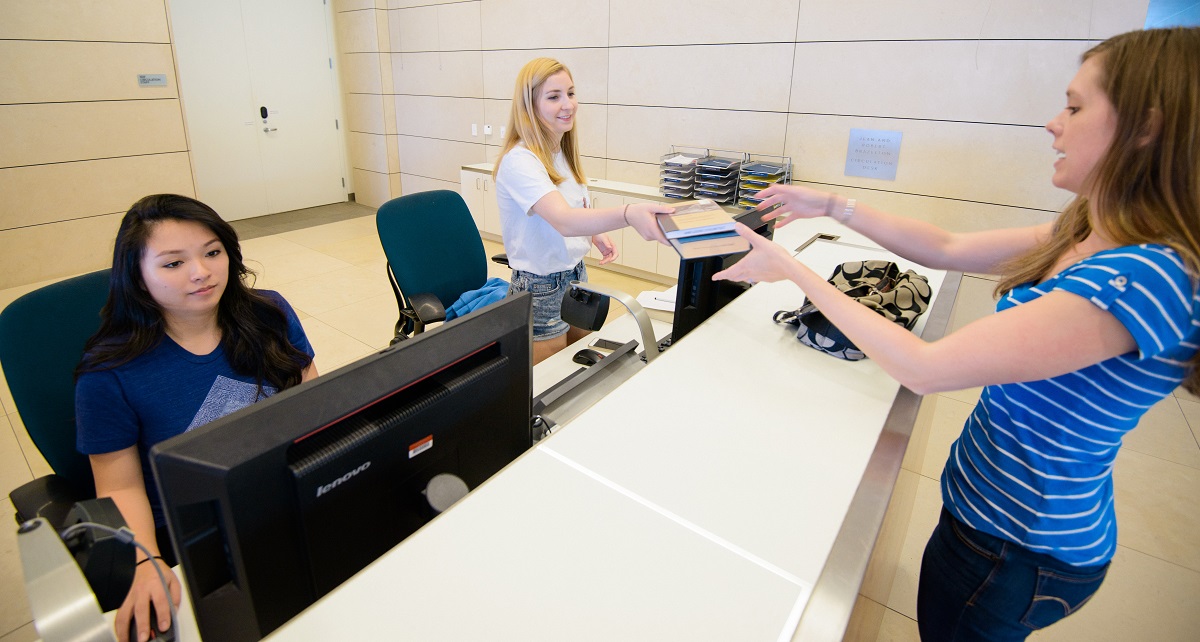 Equipment Checkout to LMU Community
The Circulation Desk on Level 1 of the library offers equipment checkout services for LMU students, faculty, and staff and Loyola Law School students.
All equipment is available on a first come, first served basis. Borrowing times vary by item (see item section for more information). Renewals are possible if nobody else is waiting for one.
Fees will apply for all damaged items. The late fee on returns varies by item. Please see below for details.
Questions?
For equipment checkout questions and information, call 310.338.5709 (on campus, ext. 85709).
A Texas Instruments – TI-34 Multiview Scientific Calculator can be checked out (for in-library use only) for four hours. Item may be renewed once for an additional four hours if there is no one else waiting for the item. Fees will apply for late or damaged items. There is a $1/hour fine for late items.

To borrow a camera you must fill out an Equipment Agreement Form in which you take responsibility for the digital camera and peripherals checked out to you. Cameras and camera accessories have a checkout period of 7 days with the option to renew for an additional 7 days if there is no hold on the item. There is a $10/day fine for late items and additional fees for damaged items upon return.

Still Cameras

Canon EOS Rebel T6 DSLR Camera with EFS 18-55mm IS II and EF 75-300mm III lens

Available to check out: camera body, 55mm camera lens, battery, battery charger, lens cap, neck strap, USB cord
Not available to check out: SD Memory Card
Software available at Canon's website

Video Cameras

Drift HD Ghost

Available to check out: Drift HD ghost camera, battery, overall camera case, USB cord
Not available to check out: MicroSD memory card, waterproof camera case, universal clip, connector hatch
Watch this video for an introduction to using the Drift HD Ghost

GoPro Hero3 (Black edition)

Available to check out: camera body, battery, camera case, HDMI cable, waterproof case, headstrap and quick clip and flat adhesive mount
Not available to check out: MicroSD memory card
Watch this video for an introduction to using the GoPro Hero3


Sony Handycam HDR-PJ790

Available to check out: camcorder body, batteries(2), battery charger, HDMI cord, USB cable, camcorder bag, remote control and lens hood
Not available to check out: MicroSD memory card
Watch this video for an introduction to using the Sony Handycam

Camera Tripods

Vivitar Tripod - Travel/Spider and Expandable

2 parts: top is detachable

Chromebooks are only available to LMU students, faculty, and staff. All Chromebooks can be checked out for seven days. Items may be renewed once for an additional seven days if there is no one else waiting for the item.

To borrow a Chromebook you must fill out an Equipment Agreement Form in which you take responsibility for the Chromebook and peripherals checked out to you.

The following rules for borrowing laptops apply:

Chromebooks may be checked out for one week. It can be renewed one time if there is no waiting list.
Only one Chromebook may be checked out per person at a time.
Chromebooks are loaned on a first come, first served basis.
All Chromebooks must be returned no later than 15 minutes before the library closes on the due date.
Chromebooks returned late will incur a late fee at a rate of $10.00 per day. Chromebook chargers returned late will incur a late fee of $1 per day.
When returning a Chromebook, the borrower must go through a check-in process to ensure that the Chromebook is returned in good shape.
If Chromebooks are lost, stolen, or damaged, the borrower will be charged a replacement fee (for the replacement cost of the computer or repairs) of up to $700.00.

A few important things to note:

The Chromebooks reset after a reboot or 60 minutes of idle time.
Users can't install apps.
Users can't print directly from these devices.
Chromebooks inherently restrict the installation of many applications and are really only good for web surfing and web-based productivity suites including Office 365.

All disc drives can be checked out (for in-library use only) for four hours. Items may be renewed once for an additional four hours if there is no one else waiting for the item. Fees will apply for late or damaged items. There is a $1/hour fine for late items.


Apple USB SuperDrive

External drive compatible with Mac systems without a built-in optical drive
Capable of playing and burning CDs and DVDs

Due to COVID-19, headphones will not be available for checkout until further notice.

---

All headphones can be checked out (for in-library use only) for four hours. Items may be renewed once for an additional four hours if there is no one else waiting for the item. Fees will apply for late or damaged items. There is a $1/hour fine for late items.

Sennheiser HD201

Stereo
3.5 stereo jack with 6.3 mm adapter

Please read our laptop checkout policy before checking out laptops.

Laptops

Laptop Chargers

All laptop adapters/chargers can be checked out (for in-library use only) for four hours. Items may be renewed once for an additional four hours if there is no one else waiting for the item. Fees will apply for late or damaged items. There is a $1/hour fine for late items.

MacBook charger (60W Magsafe)

Compatible only with MacBook and 13-inch MacBook Pro with MagSafe port

MacBook charger (85W Magsafe 2)

Compatible only with 15-inch and 17-inch MacBook Pro computers with MagSafe port

PC laptop power adapter

Compatible with Acer, Asus, Compaq, Dell, Fujitsu, Gateway, HP, IBM, Lenovo, Panasonic, Sony, and Toshiba laptops
Connector tips available

USB-C power adapter


Compatible with any USB-C device, including 12" Macbook or 13" Macbook Air

All keyboards can be checked out (for in-library use only) for four hours. Items may be renewed once for an additional four hours if there is no one else waiting for the item. Fees will apply for late or damaged items. There is a $10/hour fine for late items.

Alesis 25

25-note velocity-sensitive MIDI keyboard controller with USB and MIDI ports which enable you to connect to almost all MIDI equipment including software and sound modules

All chargers can be checked out (for in-library use only) for four hours. Items may be renewed once for an additional four hours if there is no one else waiting for the item. Fees will apply for late or damaged items. There is a $1/hour fine for late items.

Apple USB Power Adapter (5W)

For use with Apple USB cable to make a iPod or iPhone charger

Lightning to USB cable (1m)

For use with Apple USB Power adapter to make an iPod or iPhone charger for Lightning connector

Micro-USB to USB Samsung phone charger

The portable projector can be checked out (for in-library use only) for four hours. Item may be renewed once for an additional four hours if there is no one else waiting for the item. Fees will apply for late or damaged items. There is a $10/hour fine for late items.

ViewSonic M1 with Dual Harman Kardon Speakers

Lightweight LED projector to be used in group study rooms without display monitor. This projector has versatile connectivity options including a MicroSD card slot, USB, and USB-C cables.

All remotes can be checked out (for in-library use only) for four hours. Items may be renewed once for an additional four hours if there is no one else waiting for the item. Fees will apply for late or damaged items. There is a $1/hour fine for late items.

Media Carrel remotes
Group viewing/listening room (rooms 218-222) remotes

All tablets can be checked out (for in-library use only) for four hours. Items may be renewed once for an additional four hours if there is no one else waiting for the item. Fees will apply for late or damaged items. There is a $10/hour fine for late Wacom tablets and a $1/hour fine for late Wacom pens and cables.

Tablets

Wacom Intuos3 tablet PTZ-630

Accessories


Grip pen/Stylus and cable to work with Wacom Intuos3 tablet PTZ-630

All cables and adapters can be checked out (for in-library use only) for four hours. Items may be renewed once for an additional four hours if there is no one else waiting for the item. Fees will apply for late or damaged items. There is a $1/hour fine for late items.

Headphone Splitter (3-plug)

1 mini-plug adapter for 3 headphones
Used to hook up three mini-plug headphones into one player

Ethernet Cable

HDMI Male to Male Cable

Mini DisplayPort to VGA/HDMI adapter

Compatible with Mac devices with Mini DisplayPort, including MacBook Pro, MacBook Air, iMac, Mac Pro and Mac Mini

VGA HD15 Male to Male Cable with Stereo Audio

USB-C Port to VGA/HDMI Adapter

USB-C to USB Adapter