About the Library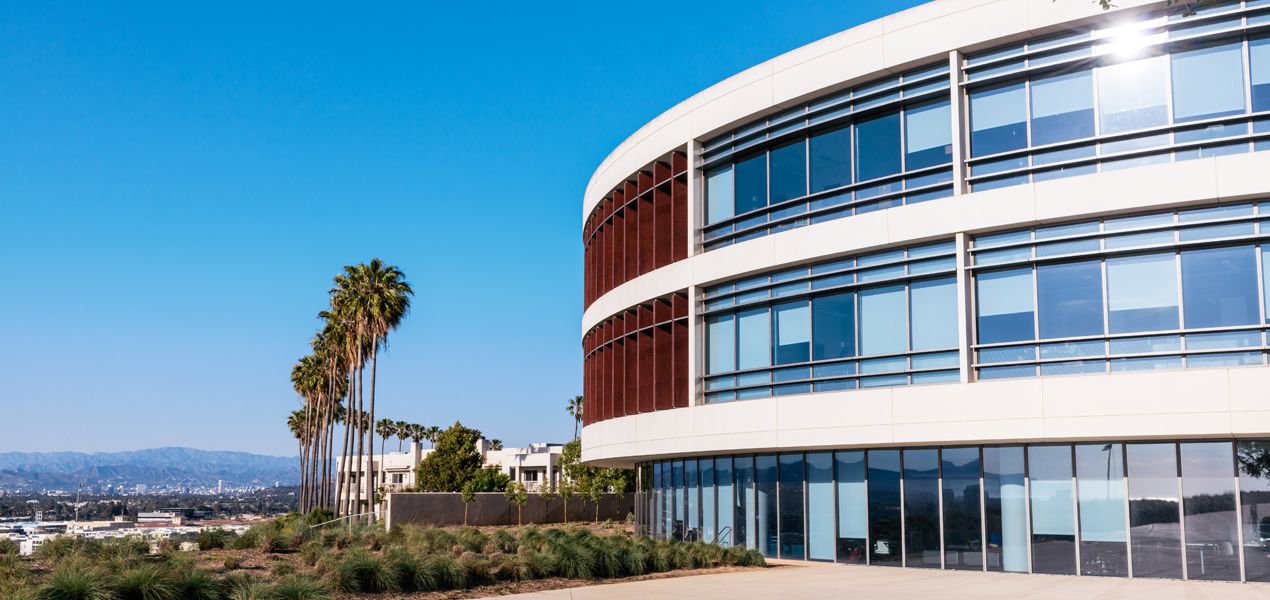 Our Mission and Vision
At the William H. Hannon Library, we seek to foster excellence in academic achievement through an array of distinctive services that enable learners to feed their curiosity, experience new worlds, develop their ideas, inform their decision-making, and inspire others. Read more about our mission and vision.
Our Strategic Plan
With its five underlying principles, our 2021-2026 strategic plan outlines seven primary goals and 22 objectives for the William H. Hannon Library. This plan drives our decision-making processes and prioritizes library projects and staffing. Read our strategic plan.
Facts and Figures
The William H. Hannon Library annually collects statistics about its collections, services, and expenditures. Read our frequently requested statistics.
DEIA Statement of Commitment
Our vision for the William H. Hannon Library inspires us to create a brave and welcoming space for the students, faculty, and staff of Loyola Marymount University. For that goal to become fully manifest at LMU, we must commit ourselves to the principles of diversity, equity, inclusivity, and anti-racism (DEIA) in our collections, our spaces, our operations, and throughout all our work. Read our full statement and learn more about our DEIA efforts.
Returning Books in the Library Building

When the library is open, books may be returned at the Circulation Desk on the first floor.

Returning Books to Other Campus Locations

For your convenience, we also have return bins at the following locations, from which library staff make daily pick-ups:

Hannon Library exterior by front entrance
Ignatian Circle Drive, behind the Burns Fine Arts Complex, accessible by foot or car
University Hall on Parking Level One, near the central elevators, accessible by foot or car
Accessible to all during limited campus access: near LMU Drive exit, U-turn before guard station

Library Departments

Access Services
Acquisitions and Collection Development
Archives and Special Collections @ the Library
Cataloging and Systems
Circulation Services
Collections Management
Library Administration
Outreach and Engagement
Reference and Instruction Services

Library Spaces

Event Space: The Von der Ahe Family Suite, located on Level 3 of the library, is home to multiple events every year. LMU faculty and staff can reserve this space through Mazevo. For inquiries, contact Event Services.

Study Spaces: The library provides a number of study spaces including group study rooms, the Rose Hills Reading Room, located on Level 2, and multiple study desks and seating areas on Levels 2 and 3.

Teaching Spaces: The library has three classrooms all of which support a variety of instruction needs.

Technology Spaces: The Information Commons on Level 1 features 80 computers that run on Mac OS with a Windows virtual desktop, and Level 2 has 8 computers running Mac OS. Presentation, viewing, and listening group study rooms are located on Levels 1 and 2.

Library Year in Review

The library's Year in Review contains highlights from the academic year and has been published annually in the fall since 2007-2008. You can read and download each edition at LMU Digital Commons.

ACRL Excellence in Academic Libraries Award Dossier

In 2021, the William H. Hannon Library was the recipient of the 2021 ACRL Excellence in Academic Libraries Award. This is one of the highest honors a university library can receive at the national level. You can read our dossier at LMU Digital Commons.

William H. Hannon Library Commemorative Brochure

Published in 2009, this document introduced the new library to the LMU Community: Commemorative Brochure

Happenings @ Hannon

Each month during the academic year, the library publishes an email newsletter for students, faculty, staff, and friends showcasing upcoming events and new initiatives at the William H. Hannon Library. You can subscribe to receive future issues or read past issues at Digital Commons.

Guided Tours

Library Tours for Students, Alumni, Guests, and Special Events

The William H. Hannon Library is open to the public and we welcome alumni, parents, students, and community members. If you would like to schedule a 20 minute tour, please contact the library's Outreach and Engagement Department at library.outreach@lmu.edu.

Library Tours for K-12 Groups

For tours that include K-12 students, we request that there be at least one chaperone for every ten students that attend the tour. Tours typically last between 10-30 minutes, depending on the needs and size of the group. If you would like to schedule a tour, please fill out our Tour Request Form at least two weeks in advance. For more information, please contact the library's Outreach and Engagement Department at library.outreach@lmu.edu.

Archives and Special Collections Tours

LMU faculty are invited to bring their classes to the Department of Archives and Special Collections for an orientation. A staff member will provide general introductory information, such as an overview of the collections and basic researcher rules, as well as any other requested information about the Department. For more information, contact Cynthia Becht at 310.338.7681 or cbecht@lmu.edu.