Research Tutorials @ the Library
The Reference and Instruction Department develops interactive tutorials and instructional videos on various information literacy and research topics to supplement class instruction. Below you will find a list of available tutorials which can be integrated into Brightspace courses upon request to the Instructional Design Librarian, Darlene Aguilar, at darlene.aguilar@lmu.edu. Tutorials require the latest Chrome Browser to operate correctly. Please contact the library with any questions or concerns.
First Year Seminar
The following tutorials were developed to meet the information literacy learning outcomes for the First Year Seminar courses. These modules cover the basic research skills students need to succeed in college. While these modules are intended for freshman students, anyone needing a research refresher course will benefit from completing these tutorials. For information on implementing these tutorials, visit the FYS LibGuide.
Academic Honesty
The Academic Honesty Tutorial is a standalone module created to introduce first-year students to LMU's Academic Honesty Policy but is useful as an introduction to scholarly conduct for any new researcher. The Academic Honesty Tutorial's content is developed by the Committee on Excellence in Teaching.
Key Points from Academic Honesty Tutorial.
Information Literacy
The following tutorials are better suited for upper division courses with an information literacy component. Attached are lists of suggested assignments and activities to pair with the tutorials.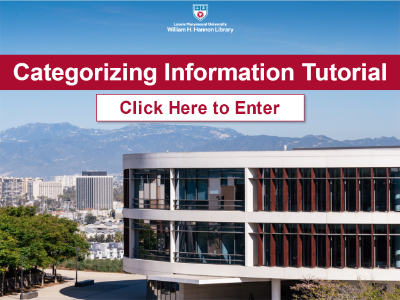 Accessible Version: Categorizing Information.
Key points: Categorizing Information.
Suggested Assignments: Categorizing Information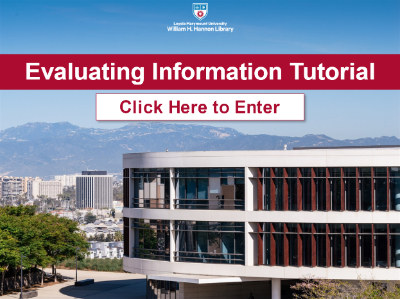 Accessible Version: Evaluating Information.
Key Points: Evaluating Information.
Business
The Research Strategies for Company Information tutorial is a usefuly tool for those interested in increasing their profieiency in business reasearch including finding and evaluating company information.
Accessible Version: Research Strategies for Company Information.
Instructional Videos
For more information literacy and library instruction, check our How To video playlist on YouTube.