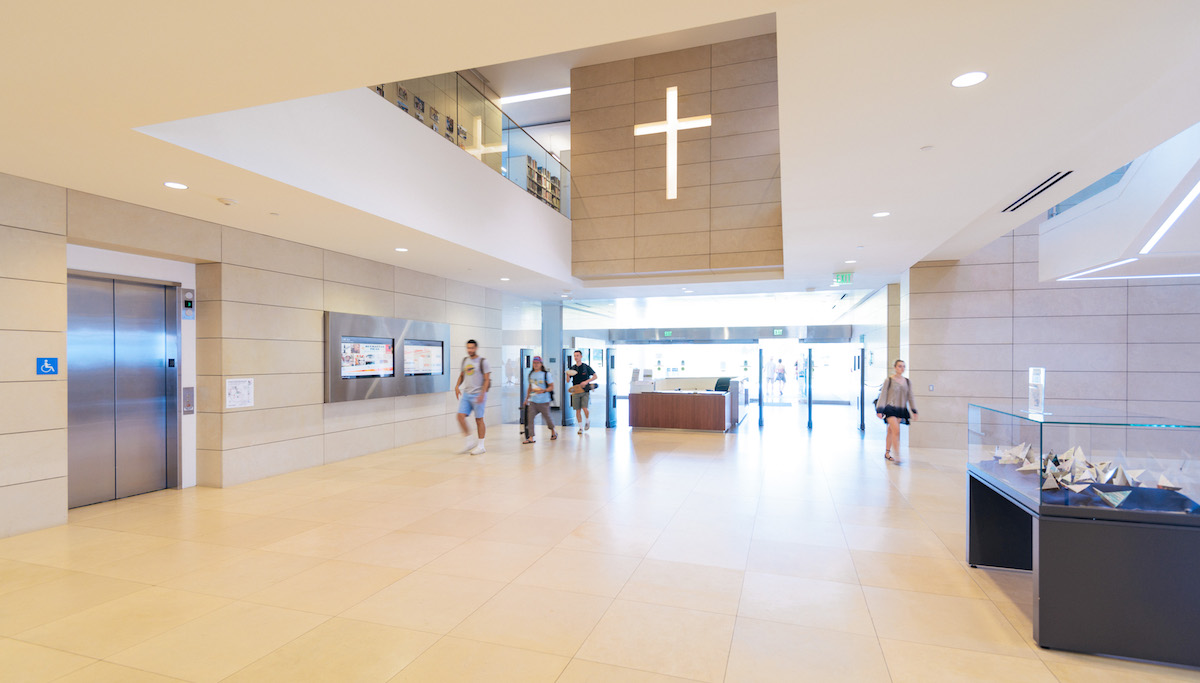 The William H. Hannon Library, its collections and services, are open to the public. We welcome individuals from off-campus to visit our spaces and utilize our collections. However, after 10:00 p.m., access to the library requires an LMU OneCard. At that time, the front doors will lock and the building is reserved exclusively for the academic use of current students, staff, and faculty of LMU and Loyola Law School in possession of a valid LMU OneCard.
All eligible visitors wishing to use the Information Commons computers should register at the Information Desk @ the Library. Visitors using computers will be asked to log off and leave the building just prior to 10:00 p.m. See the Guest Computer Access Policy for more information.
Children under high school age must be accompanied by a guardian or parent. High school students should have proof via school photo ID. Parents are responsible for ensuring that children adhere to library's code of conduct.
Borrowing Privileges for Visitors
Certain eligible visitors may apply for library borrowing privileges. For information on whether you qualify for borrowing privileges and how to set that up, please review the information below. All other guests who do not fall into one of the categories below can purchase for $300 a year.
Alumni
LMU alumni may purchase annual borrowing privileges at a discounted rate of $100 (available for purchase at the Circulation Desk).
LMU alumni are eligible for an LMU OneCard, available from the OneCard office, which is required to obtain guest computer access and to purchase borrowing privileges.
Alumni receive Visitor Borrowing Privileges.
Alumni may request free access to the ATLA Religion Database with ATLA Serials.
Emeritus Faculty
LMU emeritus faculty have associate borrowing privileges. Please confirm with HR that emeritus status has been confirmed before borrowing items from the library.
LMU and LLS Faculty/Staff Retirees
Full-time LMU retirees should obtain a "Gold Card" from Human Resources and bring this to Circulation Desk to obtain borrowing privileges.
Neighborhood Residents
Residents of the Westchester (90045), Playa Vista (90094) and Playa del Rey (90293) neighborhoods are eligible to purchase a visitor borrowing card at a discounted rate of $100. To purchase a card, go to the Circulation Desk Monday-Friday, 8:00 a.m. -7:45 p.m., Saturday or Sunday 11:00 a.m. -7:45 p.m. A current photo ID or utility bill, with your name and address, will be required for proof of neighborhood residency.
Residents who puchase a borrowing card will receive Visitor Borrowing Privileges.
Religious Residents and Religious Visitors
Religious residents and visiting religious scholars receive Associate Borrowing Privileges.
Religious scholars or faculty visiting campus for short periods of time (less than one year) should request that their department chair or Dean send a letter to the Dean of the Library requesting permission to borrow from the library. The letter should indicate department, school, or division responsible for any fees incurred as well as an expected expiration date.
Please note: if the religious resident does not have a myLMU account, they need to ask their sponsoring organization to contact ITS to obtain remote access to electronic resources and be able to request books online. Once approved by the Dean, the patron may obtain Visitor's borrowing card at Circulation Desk.
Other Visitors with Borrowing Privileges
The following groups are eligible for borrowing privileges at the William H. Hannon Library. Each group has specific policies and procedures associated with obtaining those privileges. Please select a category below to read additional details on how to request borrowing privileges.